I have a DeVilbiss Intellipap AutoAdjust Model DV54D for sale. I bought this in America a few years ago and only used it for travel because it is very compact and has a small footprint. It comes complete with a heated humidifier and has only 815 recorded hours. It can be used in AutoAjust or fixed pressure cpap mode, it also operates with 12 volt dc input (lead not supplied). This machine has electrical connections for UK use. It has never been exposed to pets or smoking. I have The Clinician's Guide and The User's Manual in downloaded pdfs and can email these to buyer. The current model is hardly different and sells for £695 excluding humidifier, the humidifier is an extra £150 making £845 in total – would sell for £300 including UK shipping costs. Or £240 EXCLUDING HUMIDIIFER. The humidifier would then sell for £65 including UK shipping. Check it out; it is the perfect back-up machine
I also have a surplus Comfort Gel Blue Mask with Headgear Medium size,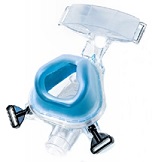 you can size yourself by downloading and printing
http://incenter.medical.philips.com/doc ... ernum%3d-2
. This mask and headgear are factory sealed and currently sells for £99 -- would accept half price (£50) including UK shipping costs.
If anybody wished to purchase machine and mask as a package I could also include a 6 foot factory sealed tube making a total package. Pre-payment by Paypal as advised by this website for your protection.